Directions
In the village of St. Johnsville, drive north on North Division Street. When you leave the village limits, it will become Crum Creek Road. You will soon reach a "Y". Bear right onto Lasselsville Road. You will come to a water treatment plant. The waterfall is located at the bottom of this road, next to the plant.
| | |
| --- | --- |
| County: | Montgomery |
| Town: | St. Johnsville |
| USGS Map: | Oppenheim |
| Waterway: | Zimmerman Creek |
| Latitude: | N 43° 00' 52" |
| Longitude: | W 74° 40' 19" |
| Drop: | 50' |
| Type: | Ribbon Cascade |
| Region: | North of St. Johnsville |
| Parking: | Unpaved lot |
| Trail type: | Dirt |
| Length of hike: | 1 minute |
| Difficulty: | Easy |
| Accessibility: | Public, with permission |
| Name: | Common |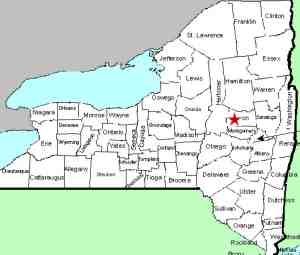 This waterfall is on the premises of a water treatment plant which is owned by the village of St. Johnsville. Since it is on municipal property, it is publicly owned, but visitors should note that there is a "No Trespassing" sign on the road that leads down into the plant from Lassellsville Road. This is probably done to keep the disrespectful, partying public from littering the area, and from possible injuries and is completely understandable.
Several sources indicate that if you call the Village (not town) of St. Johnsville, you can get permission to enter the property to photograph the falls. Apparently it is a very popular spot for locals to have pictures such as prom, wedding and the like, taken.
A couple of weeks prior to our trip planned for this area, we called the Village Clerk. Since we weren't sure of the exact time and date we would be there, we were told that if we called them when we got there, we could be put in contact with an official at the Department of Public Works for permission. That is exactly what we did. The bad news is that it was about 3:20 PM and the office was closed. We took some pictures of a small cascade upstream of the main waterfall above the highway there. The first photo in our array is of that drop. From that vantage point, looking over the crest of the falls from the road, it could be seen that the waterfall was something that had to be seen from below.
We took a drive into the village and found the municipal building. Fortunately, the police station is also located there and an officer was there. He called the DPW official for us but when he didn't get an answer, told us that it wouldn't be a problem and that we could go on up there and take our pictures!
Although not a free-fall, this cascade is as close to a vertical drop as you will see. It is obvious why the area is such a popular place for a "Kodak moment"!

Zimmerman Creek empties into the Mohawk River, which then flows into the Hudson before reaching the Atlantic Ocean.
Last update: October 7, 2017