Directions
This waterfall is off the Empie Road, just west of the hamlet of Three Mile Bay. A short distance up this road, there is a site on the right where the remains of a bridge is in view. The falls can be seen from here.
| | |
| --- | --- |
| County: | Jefferson |
| Town: | Lyme |
| USGS Map: | Chaumont |
| Waterway: | Shaver Creek |
| Latitude: | N 44o 04' 57.46" |
| Longitude: | W 76o 12' 50.14" |
| Drop: | 11' |
| Type: | Step |
| Region: | Hamlet of Three Mile Bay |
| Parking: | Roadside |
| Trail type: | Roadside |
| Length of hike: | Roadside |
| Difficulty: | Easy |
| Accessibility: | Private |
| Name: | Unnamed |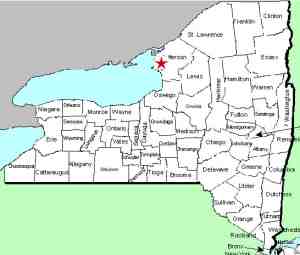 This area is all private property, but the falls can be seen from the roadside by this former bridge foundation. The larger drops are downstream so you are looking over the crest. Our pics of that were taken with a drone.
This is a small multi-step waterfall. From the bridge looking upstream, four small ledge drops are in view. The top three are each about a foot high and the final drop is about two feet.
On the downstream side, there are five additional drops. This side also totals about six feet. As the photos show, this is not a step type falls in the sense that you are walking up stairs. Rather, the drops descend over a series of ledges in the rock forming the river bed.
Shaver Creek flows into Three Mile Bay about a thousand yards from this waterfall. This is a bay off Chaumont Bay, a large bay on Lake Ontario.
Last update: April 15, 2017