Directions
Drive south on NY 12 from Lowville and about 3.4 miles from the McDonalds, turn right on the Whitaker Road. The first left will be the Jantzi Road. This road ends on the Glendale Road, CR 32, where you should turn left. Just past the entrance to the Whitaker Falls Park, you will cross the Roaring Brook. This small waterfall will be on your right.
| | |
| --- | --- |
| County: | Lewis |
| Town: | Martinsburg |
| USGS Map: | Glenfield |
| Waterway: | Roaring Brook |
| Latitude: | N 43° 43' 48" |
| Longitude: | W 75° 27' 09" |
| Drop: | 10' |
| Type: | Rectangular Block |
| Region: | South of Lowville |
| Parking: | Roadside |
| Trail type: | Roadside |
| Length of hike: | 1 minute |
| Difficulty: | Easy |
| Accessibility: | Public |
| Name: | Unnamed |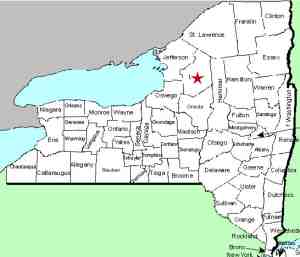 This unnamed waterfall is within view of the highway. This location is just upstream from Whitaker Falls in Whitaker Falls Park. There is another waterfall about a mile-and-a-half downstream from this point. Also unnamed, we have dubbed that one the Roaring Brook Lower Falls. The very popular Whitaker Falls is between these two waterfalls.
All of our photos were taken from the roadway. Although we have not pursued this, we suspect that the property surrounding this is private. That is really not an issue, because unobstructed views are possible from the highway right-of-way.
The Roaring Brook flows into the Black River about 2.5 miles from this site. The Black River meets Lake Ontario just west of Watertown in Dexter, New York.
Webmaster's note: We have had this waterfall listed for some time as Roaring Brook Upper Falls. We recently have become aware of another unnamed waterfall further upstream on Roaring Brook. This makes "Upper Falls" somewhat deceiving. Therefore, we have assigned a more descriptive name to this one and have dubbed the new one Upper Falls.
Last update: July 15, 2017