Directions
From the hamlet of Colton head southeast on NY 56. The first right after crossing the Raquette River is the East Higley Road. Near the end of the road, the road makes a 90 degree turn to the right. There is a metal gate at that point.
| | |
| --- | --- |
| County: | St. Lawrence |
| Town: | Colton |
| USGS Map: | Colton |
| Waterway: | Raquette River |
| Latitude: | N 44° 31' 50" |
| Longitude: | W 74° 55' 55" |
| Drop: | 4' |
| Type: | Slide |
| Region: | East of Colton |
| Parking: | Roadside |
| Trail type: | Dirt |
| Length of hike: | 1 minute |
| Difficulty: | Easy |
| Accessibility: | Private |
| Name: | Official |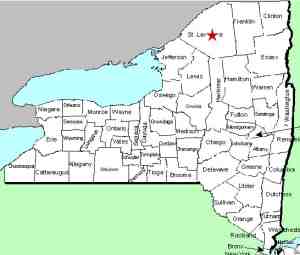 This stretch of the Raquette River, which more or less follows NY 56 from its start in Sevey, New York, to below Potsdam, is a major hydro-electric producing area. There are literally dozens of hydro dams and several major reservoirs. According to signs at this particular facility, it is owned by Niagara Mohawk, the utility provider in the region. The signs are somewhat dated because that company has not existed for several years. National Grid now serves the area.
Below the dam is Higley Falls. This entire area is privately owned and not publicly accessible. Our pictures were taken downstream of this facility where a property owner gave us permission for access. Having said that, there is very little to see here. The Higley Dam contains a region of the Raquette River known as Higley Flow. One of many reservoir areas along the river, this is a popular residential area, both seasonal and year-round. It is also the furthest downstream of all the reservoirs in this area. Before the dams were built, there was a waterfall here. Now, below the dam, all there is left is a very small drop, perhaps of four feet or so. It barely qualifies as a waterfall.
The Raquette River empties into the St. Lawrence River in Massena, New York.
Last update: July 26, 2016