Directions
From the village of Lyons Falls, travel east on the Lyonsdale Road until you reach the Shibley Road where you should turn left. After crossing the bridge, there will be a dirt road on the left. A short distance in, you will find a parking area on the right.
| | |
| --- | --- |
| County: | Lewis |
| Town: | Lyonsdale |
| USGS Map: | Port Leyden |
| Waterway: | Moose River |
| Latitude: | N 43° 36' 46" |
| Longitude: | W 75° 20' 14" |
| Drop: | 30' |
| Type: | Cascade |
| Region: | East of Lyons Falls |
| Parking: | Unpaved lot |
| Trail type: | Dirt |
| Length of hike: | 2 minutes |
| Difficulty: | Easy |
| Accessibility: | Private, access allowed |
| Name: | Common |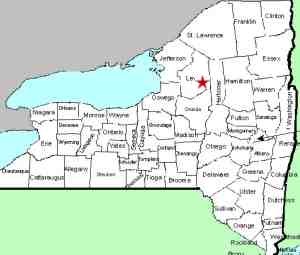 Across from the parking area, there is a path leading to the riverbank. Follow this and you will be at the base of the falls.
This is a two-part waterfall, with drops on both sides of an island. The river left portion is below a dam which is identified as the Lyons Falls Hydroelectric Gouldtown Site.
There has been considerable confusion, at least on our part, about this location. We have found online references calling the river left portion of this waterfall Goulds Mills Falls and the river right portion, Kosterville Falls. It is true that historically, Goulds Mills was a community on the south side of the river (river left) and Kosterville was on the north side. Neither of these communities exist, per se, today. However, we have also found information that indicated that this entire location is Goulds Mills Falls and the region upstream, commonly referred to as Magilla is Kosterville Falls.
After much research, and more importantly, conversations with a number of local residents who have spent their entire life in this area, we have determined that the latter of the above two options is most accurate. This site is the area that was Goulds Mills Falls.
Just upstream of the Gouldtown Site is the Lyons Falls Hydroelectric Kosterville Site. The waterfall there is known today as Magilla, a name given by the whitewater community. Local sources agree that this was formerly known as Kosterville Falls.
It is interesting to note that the water level through this stretch makes a dramatic impact on the appearance of each section. The last image we have provided is courtesy of Bing Maps and shows the entire region of Goulds Mills Falls. You will note that water wasn't even flowing over some of the sections in this shot.
The Moose River flows into the Black River just a few miles downstream from this location in Lyons Falls. The Black empties into Lake Ontario in the Jefferson County community of Dexter.
Last update: November 28, 2015