Directions
This waterfall, located off the Roberts Road in the community of Copenhagen, is now posted by the landowners and owners of the hydro facility.
| | |
| --- | --- |
| County: | Lewis |
| Town: | Denmark |
| USGS Map: | Copenhagen |
| Waterway: | Deer River |
| Latitude: | N 43o 55' 01" |
| Longitude: | W 75o 37' 59" |
| Drop: | 40' |
| Type: | Classical cascade |
| Region: | Northeast of Copenhagen |
| Parking: | Unpaved lot |
| Trail type: | Dirt |
| Length of hike: | 0.6 mile |
| Difficulty: | Easy |
| Accessibility: | Private |
| Name: | Official |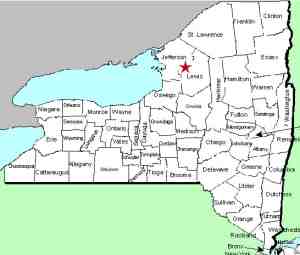 There have been some new developements regarding the region around King Falls. The property adjacent to the river on the Roberts Road access side, including the road leading into the falls and the property on both sides of that road is privately owned by a local farming family. Recently there have been a number of issues including vandalism at the hydro site, garbage left at the waterfall location, two locks cut off the gate and the theft of a portion of the gate holding the lock. Because of these and other recent problems, the landownwers and the hydro company that now owns the plant have posted the property.
The stories about King Falls have been circulating for some time. The tales are almost legendary. It has been a popular hiking, picnic and party area for decades. It is our belief that a disrespectful public, probably local to that area and probably a younger group, are responsible for this negative activity. We would like to believe that people reading this website, waterfall hikers and lovers, are not in the demographic that would abuse such a facility. Comments made on several waterfall blogs and Facebook pages support the fact that the waterfall community does not condone and in fact, condemns this behavior.
However, as the saying goes, it is what it is. The actions of a few will mean that the many will pay. Unfortunately, these new restrictions will probably not stop the violators. Please honor the landowners' requests and right. The property is now posted.
As for the waterfall, it gets its name from the fact that it looks somewhat like a king's throne. This is more evident during lower water flow.
The Deer River flows to the Black River which empties into Lake Ontario at the Black River Bay, just southwest of the village of Dexter.
Last update: June 7, 2016