Directions
From the intersection of NY 12 and NY 365, just north of Barneveld, proceed north on NY 12. The first right will be the Plank Road and the second right from that is the Prospect Junction Road. You will almost immediately cross the Cincinnati Creek. The waterfall is under this bridge and just downstream from it.
| | |
| --- | --- |
| County: | Oneida |
| Town: | Trenton |
| USGS Map: | Remsen |
| Waterway: | Cincinnati Creek |
| Latitude: | N 43o 18' 32" |
| Longitude: | W 75o 11' 03" |
| Drop: | NA |
| Type: | Step |
| Region: | Between Remsen and Barneveld |
| Parking: | Roadside |
| Trail type: | Dirt |
| Length of hike: | 0.1 mile |
| Difficulty: | Easy |
| Accessibility: | Public, parts private |
| Name: | Unnamed |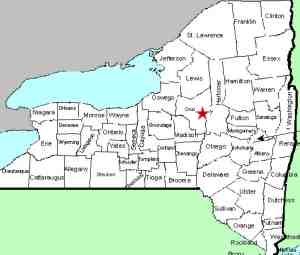 The section is actually a series of six or seven drops over a stretch of about 300 yards. About 500' upstream from the bridge is the first drop that can be seen. It looks to be about five or six feet tall. Approximately half way between the bridge and that drop is a second drop of only three feet or so. Just upstream of the bridge is another five or six foot drop and then you are looking over the crest of another drop of about the same height on the downstream side of the bridge.
There are two or three more drops further downstream that can not be seen from the bridge. Better views of the rest of the drops are available from downstream. Please note, however, that the land on both sides of the creek, both upstream and downstream are private property. There is a private road exiting the Plank Road just downstream from this bridge. One of our contributors was granted permission from the landowner to photograph the area from there. In this section, there is a drop before the creek splits around a small island. Just below the island, there is another drop and then a slide that completes the stretch.
The Cincinnati Creek flows into the West Canada Creek just downstream of the Trenton Falls area. This empties into the Mohawk River, which then flows into the Hudson before reaching the Atlantic Ocean.
Last update: October 4, 2017