Directions
The Jerden Falls Road is located off the east side of NY 812 just north of the hamlet of Indian River. Head north on it. Actually, if you are coming from the north, a left on the Dutton Road and then a left on the Jerden Falls Road will save you a few miles. Check your odometer as you cross the Oswegatchie. In about 1.5 miles, there is a dirt road to the right. Park on this corner.
| | |
| --- | --- |
| County: | Lewis |
| Town: | Croghan |
| USGS Map: | Remington Corners |
| Waterway: | Blanchard Creek |
| Latitude: | N 44o 02' 04" |
| Longitude: | W 75o 18' 47" |
| Drop: | ~12' |
| Type: | Ribbon Cascade |
| Region: | South of Harrisville |
| Parking: | Roadside |
| Trail type: | Dirt |
| Length of hike: | 0.1 mile |
| Difficulty: | Easy |
| Accessibility: | Public |
| Name: | Unnamed |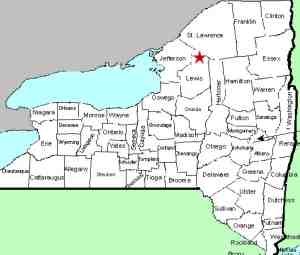 From the corner where you parked, walk a bit further up the road you had been on and look to the left side. You will easily see the waterfall. This is all NYSDEC land that is easy to walk, so access will not be an issue, either physically or legally.
Although only about twelve feet tall, this is a very pleasant roadside gem. It is only a couple of miles from the better known Jerden Falls and is worth the trip if you are in the area.
There are two Blanchard Creeks in Lewis County. One originates just west of the Oswegatchie River's West Branch, roughly 3.2 miles from where this Blanchard Creek enters the Oswegatchie, a little over one mile from this waterfall. The West Branch joins the main channel near Talcville in the town of Edwards in St. Lawrence County. This flows to the St. Lawrence River in Ogdensburg.
Last update: June 30, 2017