Directions
From the intersection of NY 12 and NY 28 in Alder Creek, drive northeast on NY 28 to Forestport. After crossing the Forestport Reservoir, take a right on the exit ramp. Continue to merge on the Woodhull Road. As you go through Forestport Station, take a right on the Bardwell Mills Road. You will come to a corner where the Bardwell Mills Road exits right, but you should continue straight and you will be on the Lake Julia Road. In a little over 1/2 mile, turn left on the Muthig Road. This becomes the Roberts Road. You will come to a sign on the left for the "Black River Public Fishing Stream". Drive about 1-1/4 miles down this dirt road.
| | |
| --- | --- |
| County: | Oneida |
| Town: | Remsen/Forestport |
| USGS Map: | Forestport |
| Waterway: | Black River |
| Latitude: | N 43° 23' 51" |
| Longitude: | W 75° 08' 15" |
| Drop: | 3' |
| Type: | Curtain cascade |
| Region: | Southeast of Forestport |
| Parking: | Unpaved lot |
| Trail type: | Dirt |
| Length of hike: | 5 minutes |
| Difficulty: | Easy |
| Accessibility: | Public |
| Name: | Official |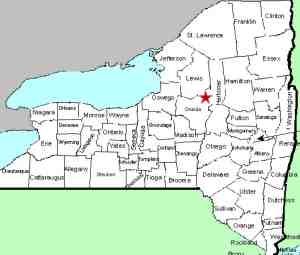 As mentioned in the directions side-bar, there is a NYS DEC sign at the corner showing that this is the Black River Public Fishing Stream. When we were there the first time, there was also a sign identifying this road as a Jeep Trail, Private Road. We subsequently found out that all the land on both sides of the road was private but that the road was state-owned.
About 1-1/4 mile down this road, there is a parking area. There are two trails leading from that. Either trail will get you there, but the left trail is the most direct route to the falls. Although this is one of only two USGS officially named waterfalls in Oneida County, it is not a very big one, maybe a three foot drop.
It is important to note that this trail must be on the edge of state land, because trees adjacent to the trees sporting the DEC markers, held "Private Property No Trespassing" signs. Also, about 200' downstream from the waterfall, it appeared that we were looking over the crest of another drop. Since this was on posted land, we didn't follow up on it.
Since our trip, the owners of this land downstream found this entry and contacted us. We hope to return there in June.
The Black River empties into Lake Ontario at the Black River Bay, just southwest of the village of Dexter.
Last update: October 4, 2017