Directions
From the intersection of NY 73 and CR 431 in Wilmington head southwest on route 86. In about 1.9 miles, there is a parking lot on the right just before crossing the Ausable River.
| | |
| --- | --- |
| County: | Essex |
| Town: | Wilmington |
| USGS Map: | Lake Placid |
| Waterway: | Ausable River West Branch |
| Latitude: | N 44o 21' 59" |
| Longitude: | W 73o 50' 25" |
| Drop: | 50' |
| Type: | Mixed |
| Region: | NY 86 between Lake Placid and Wilmington |
| Parking: | Paved lot |
| Trail type: | Dirt/grass |
| Length of hike: | Up to 0.2 mile/5 minutes |
| Difficulty: | Easy to moderate |
| Accessibility: | Public |
| Name: | Official |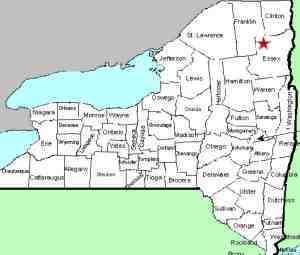 This location is just downstream from High Falls Gorge, a very popular Adirondack tourist attraction featuring waterfalls. It is also close to the Whiteface Mountain Ski Center. Topographical maps identify this as "The Flume Fall" but a sign at the entrance to the parking area indicates that it is "Wilmington Flume". Although this is evidently a new name associated with the area, no one told the USGS. This waterfall is officially named The Flume Fall. Interestingly "The" is part of the name. Alphabetically it is listed under "T"!

There are basically three drops associated with this section. It is a casual stroll of a few hundred feet from the parking lot to the bridge. Upstream from here, you will see the top-most section. At the beginning of it is a rock ridge from which the river plummets about ten feet. This ridge runs diagonally across the channel forming a curtain cascade. Parts of it are obscured from view around the bend in the river. over the next hundred feet to the bridge are a series of steps and slides dropping another ten feet or so.

If you cross the road and view the downstream region, you will see that you are just above a plunge around a big boulder in the middle of the channel. Continue to cross the bridge and there is a trail leading downstream.
Upper Section


Center Section


Lower Section
The trailhead is across the bridge and across the river from the parking area. On your right as you proceed down this road, there are a number of posted signs, but the river side is publicly accessible. A few hundred feet down this trail, there are several access trails to the river. From them, you can see this twenty foot plunge, a pair of ribbon cascades, just downstream of the bridge. A little further downstream, there is a curtain cascade of about eight feet. Still further downstream is a smaller curtain cascade of about three feet.
This is a very pleasant area to stroll and enjoy and perhaps pause for lunch or a snack.
The West Branch of the Ausable River merges with the east branch a few miles downstream from here in Au Sable Forks. The combined Ausable River empties into Lake Champlain in the town of Peru.
Last update: August 18, 2017