Directions
From the hamlet of Keene, just north of where NY Routes 73 and 9N split, take 73 north. Just before crossing the river, the Hulls Falls Road will be on your left. Take this for 1.6 miles and you will cross a bridge. The waterfall is under this bridge.
| | |
| --- | --- |
| County: | Essex |
| Town: | Keene |
| USGS Map: | Keene Valley |
| Waterway: | Ausable River East Branch |
| Latitude: | N 44o 14' 06" |
| Longitude: | W 73o 47' 40" |
| Type: | Cascade |
| Drop: | 20' |
| Region: | North of Keene |
| Parking: | Roadside |
| Trail type: | Dirt |
| Length of hike: | 1 minute |
| Difficulty: | Easy |
| Accessibility: | Some public, some posted |
| Name: | Official |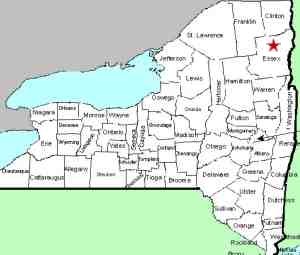 Hulls Falls is located on the Hulls Falls Road, also known as Essex County Route 69. Be aware that the other end of the Hulls Falls Road intersects Route 73 on a stretch where 73 and 9N are running together, a little less than 2.5 miles south of the point noted in the directions side-bar. From this end, the bridge is only 0.9 miles. If you inadvertently take the southern end not knowing that there are two ends, you will cross this bridge and not realize it is what you are looking for. People have been known to make this mistake!
This is a very nice little waterfall that drops in two steps. The upper step is just above the bridge and the lower step, which splits around a large boulder in the stream, is just downstream of it. Some of the land on the downstream side is private and posted, so please be aware of that when you visit this area. Thanks to Christy Hibsch who has provided some pics of the lower drop.
The Hulls Falls is on the East Branch of the Ausable River. The East Branch and the West Branch join forces downstream at Au Sable Forks to form the Ausable River. This waterfall rich river empties into Lake Champlain in the town of Peru.
Latest update: March 26, 2014