Directions
West of Scotia on NY 5, the Washout Road/CR 51 will exit north. If you reach the bridge over the Mohawk to Rotterdam Junction, you've gone too far! Drive 1.6 miles on the Washout Road and take a right on the Sanders Road/CR 38. In less than 1/4 mile, you will reach the parking lot for the Sanders Preserve.
| | |
| --- | --- |
| County: | Schenectady |
| Town: | Glenville |
| USGS Map: | Pattersonville |
| Waterway: | Washout Creek |
| Latitude: | N 42° 53' 21" |
| Longitude: | W 74° 01' 14" |
| Drop: | 10' |
| Type: | Multiple curtain cascades |
| Region: | Northwest of Scotia |
| Parking: | Unpaved lot |
| Trail type: | Dirt |
| Length of hike: | 0.1 mile |
| Difficulty: | Easy |
| Accessibility: | Public |
| Name: | Common |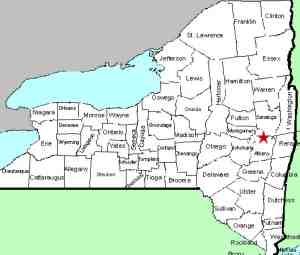 At the edge of the parking lot, there is a kiosk with information on the Sanders Preserve, complete with a sign-in sheet. To reach the waterfall, face away from the road and walk into the clearing at the right rear of the parking area. There is a sign indicating the "Sanders Preserve Trail Head". Another sign states the rules of the area.

At about 0.2 mile from the trailhead, there is a fairly obvious trail that exits right. This leads to the uppermost drops. From here, you can wander downstream and find a number of small cascades that make up this

stretch. We found six. That is not to say that there aren't more. There is more to this creek than we explored.
The upper drop, which falls in two ledges, is in the first video. Some of the drops are quite small, probably about two feet each. Mid-way through this stretch is a very pretty little cascade of five or six feet. That is featured in the second video. Slides connect each drop.
The water from Washout Creek empties into the Mohawk River and the Hudson River before reaching the Atlantic Ocean in New York City.
Last update: August 26, 2017