Directions
On NY 30, 3.2 miles north of Northville, you will come to the junction of CR 6. There are signs at the corner indicating that this is the road to Benson. Almost immediately after turning on this road, the River Road will be on your right. One-and-a-half miles down this road, the falls will be visible cascading down the hillside on your left.
| | |
| --- | --- |
| County: | Hamilton |
| Town: | Hope |
| USGS Map: | Hope Falls |
| Waterway: | Unnamed stream |
| Latitude: | N 43° 16' 25" |
| Longitude: | W 74° 14' 09" |
| Drop: | 40' |
| Type: | Ribbon cascade |
| Region: | Off NY 30 between Northville and Wells |
| Parking: | Roadside |
| Trail type: | Roadside |
| Length of hike: | Roadside |
| Difficulty: | Easy |
| Accessibility: | Private |
| Name: | Unnamed |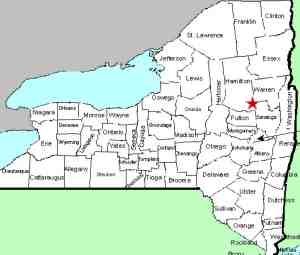 These falls, whose named we have based on its location, have a significant drop in five or six steps, but other than during spring run-off, the sight is not overly impressive due to the limited amount of water flowing on this unnamed stream.
There is also a question as to the town this waterfall is actually in. The waterfall is only a few dozen feet west of the Sacandaga River, on the town of Benson side. Our topographical map, as well as a couple of others we found, show that the town line is not the river and that this area on the west side of the river is actually in the town of Hope. It is not clear, however, that this "indefinite boundary" that is shown, is actually the town line. Anyone reading this who might have more information on this is encouraged to drop us an email.
This unnamed stream flows into the Sacandaga River. This flows through a number of lakes as it makes its way to the Hudson River whose final destination is the Atlantic Ocean.
Last update: August 26, 2017