Directions
On NY 12 in the southern part of the village of Lowville, proceed south for about 1.5 miles from the intersection of NY 12 and NY 26. About 700 feet up this road behind an old schoolhouse on the right, this waterfall, if flowing, may be visible.
| | |
| --- | --- |
| County: | Lewis |
| Town: | Martinsburg |
| USGS Map: | Lowville |
| Waterway: | Unnamed waterway |
| Latitude: | N 43° 45' 49" |
| Longitude: | W 75° 27' 48" |
| Drop: | 50' |
| Type: | A series of ribbon cascades |
| Region: | South of the village of Lowville |
| Parking: | Roadside |
| Trail type: | Roadside |
| Length of hike: | Roadside |
| Difficulty: | Easy |
| Accessibility: | Private |
| Name: | Unnamed |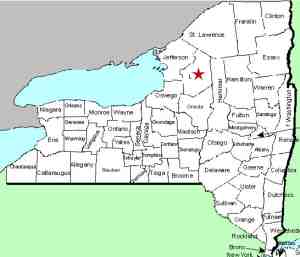 We found out about this during a waterfall presentation we made in Lowville. It literally took us two years to actually see it. A year or so after first learning about it, a local historical society had an open house at the schoolhouse here. Its location was clarified to us then.
This is a seasonal waterway and the viewing window is very limited. Foliage is also an issue. Because of the distance to the falls and the angle that it descends this hillside, even without foliage it is difficult to see the upper half of it.
If you look closely at our photographs, the lower drop is obvious. Almost directly above this at the top of the embankment, the initial descent is barely visible. For the top 20% or so, it goes to the viewing right where is drops straight down. This makes up about 1/2 of the total drop. The final 30% of the waterfall is crossing to the viewing left until the final plunge. By the time leaves come out on the trees, if there is any water flowing, it is almost totally obscured from the road view.
The waterway containing this waterfall is not charted on topographical maps. That leads us to assume that this is run-off. Our usual way of labeling an unnamed waterfall is to identify it by the waterway that it is on. Since this stream is not named, we have chosen to use the road name from which it is seen.
This stream flows into the Black River about a mile downstream from here. The Black flows into Lake Ontario in Dexter.
Updated: April 19, 2017