Directions
This waterfall is located on NY 26 between the village of Lowville and the hamlet of Deer River. It is just down the hill from the Arthur Road intersection and is visible off the west side of the highway.
| | |
| --- | --- |
| County: | Lewis |
| Town: | Lowville |
| USGS Map: | West Lowville |
| Waterway: | Unnamed waterway |
| Latitude: | N 43° 50' 45" |
| Longitude: | W 75° 31' 45" |
| Drop: | 12' |
| Type: | Multiple curtains |
| Region: | North of Lowville |
| Parking: | Roadside |
| Trail type: | Roadside |
| Length of hike: | Roadside |
| Difficulty: | Easy |
| Accessibility: | Private |
| Name: | Unnamed |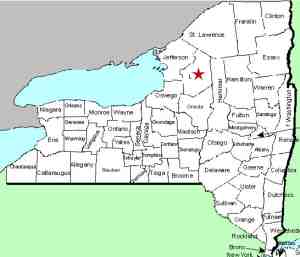 This location is on private property, but it doesn't really matter because you can see it from the roadside. The waterfall is unnamed and since the stream is as well, we can't use our general process of giving it a name based on the waterfall. Although it is not on the Arthur Road, we are using this name because it is off NY 26 just down the road from the intersection of that town road.
The waterfall is about seven drops. The furthest drop that can be seen is about 3' followed by three more drops. The next two are only a foot or so each and the third one another 3 footer. The creek then goes through a culvert under the highway and when it exits the other side, you can see another pair of small drops. As the photo shows, there is a short span between each of the drops.
This waterway has multiple points of origin and flows into a large swamp. The East Road is a short distance east of NY 26 and runs parallel to it. This swamp is located between the East Road and Black River, which is a bit further east. This waterway is drained by a number of small creeks which all lead into the Black River. This flows into Lake Ontario at Dexter in Jefferson County.
Last udpate: June 12, 2017