Directions
From NY 72 in the village of Parishville, Catherine Street is the first intersection north of the bridge over the St. Regis River. When you leave the village, this becomes the Sylvan Falls Road. In about 5.3 miles, the pavement ends. At about 6.8 miles, you will come to Sylvan Falls on your right.
| | |
| --- | --- |
| County: | St Lawrence |
| Town: | Hopkinton |
| USGS Map: | Sylvan Falls |
| Waterway: | St. Regis River West Branch |
| Latitude: | N 44° 34' 34" |
| Longitude: | W 74° 42' 39" |
| Drop: | 20' |
| Type: | Segmented Block |
| Region: | Off NY 72 in the village of Parishville |
| Parking: | Not publicly accessible |
| Trail type: | Not publicly accessible |
| Length of hike: | Not publicly accessible |
| Difficulty: | Not publicly accessible |
| Accessibility: | Private |
| Name: | Official |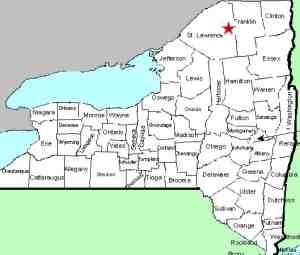 At some point down this road, you will reach a sign that indicates that all of the property beyond that point is private and posted. The road however, is public. When you come to Sylvan Falls, you will see it from the road. Although you are less than 100 feet from it, your vantage point is not terribly good.
Be aware that there is another website that has not only posted down-river pictures of this waterfall, but has made the statement that it is a short hike down the bank to reach the falls. Physically, that may be true. The fact is, as mentioned in the previous paragraph, all of the property in the area is posted. Please honor this. We would have loved to scramble down for five minutes and get better pictures but it is our policy not to trespass.
Another issue here is that the land you see across the stream is actually an island. Sylvan Falls forms on both side of this and you can't even see the other side. Fortunately, a man who uses this website and has access to this area has sent us pictures of both sides. He wishes to remain anonymous but we thank him for these contributions.
The first four photos in the array are from the left side of the river on the opposite side of this island. The last three pics are of the right channel.
The West Branch of the St. Regis River flows into the main channel in Winthrop. The St. Regis River then flows to the St. Lawrence River almost on the US/Canada border a few miles northeast of Massena, New York.
Last update: May 7, 2017