Directions
St. Regis Falls (the falls) is located in the St. Regis Falls Scenic Campsite within St. Regis Falls (the village). From the village, drive toward Potsdam on NYS Route 458. Before crossing the St. Regis River, turn right and into the campground. Coming from Potsdam, take New York State Route 11B east. You will pass through the hamlet of Hopkinton. A right on State Route 458 will take you in to Franklin County. As you enter the village of St. Regis Falls, you will cross a bridge over the St. Regis River. Just past this on your left is the entrance to the campsite.
| | |
| --- | --- |
| County: | Franklin |
| Town: | Waverly |
| USGS Map: | St. Regis Falls |
| Waterway: | St. Regis River |
| Latitude: | N 44° 40' 24" |
| Longitude: | W 74° 33' 02" |
| Drop: | ~30' |
| Type: | Curtain cascade |
| Region: | Between Potsdam and Malone |
| Parking: | Campground road |
| Trail type: | Dirt |
| Length of hike: | 3 minutes |
| Difficulty: | Easy |
| Accessibility: | Public |
| Name: | Common |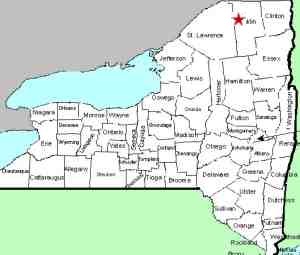 This campground is operated by the Town of Waverly. It is a typical campground with tent and RV sites as well as cabins to rent. Many campers have "permanent" sites here ... their RVs are left year-round. There is no charge to enter and view the falls.
You can see the falls from two different locations. Option one is to park near the entrance and walk behind the office. There is an overlook here and you can get right next to the crest of the falls. You can also walk along the bank to get up-close views.
Option two is to continue down the hill, either by walking or by car, and take the first left past the St. Regis Pavilion. You will find a footbridge on the left where you can view the falls. Your views here are somewhat distant but unobstructed. With a good lens, you will get nice photos of it.
The St. Regis River flows north into Canada and then empties into the St. Lawrence River a short distance downstream from the New York/Quebec border.
Last update: April 26, 2017