Directions
From NY 72 in the hamlet of Parishville, turn on St. Lawrence CR 47. This will take you by the Parishville-Hopkinton Central School campus. Take a left on the first cross road, which is the Allen Falls Road. You will come to a bridge in a short distance. There is an area on your left just before crossing the bridge where you can park.
| | |
| --- | --- |
| County: | St. Lawrence |
| Town: | Parishville |
| USGS Map: | Parishville |
| Waterway: | St. Regis River West Branch |
| Latitude: | N 44° 39' 21" |
| Longitude: | W 74° 50' 57" |
| Drop: | 35' |
| Type: | Rectangular Block |
| Region: | North of the village of Parishville |
| Parking: | Unpaved lot |
| Trail type: | Dirt |
| Length of hike: | 0.2 miles/5 minutes |
| Difficulty: | Moderate |
| Accessibility: | Public |
| Name: | Official |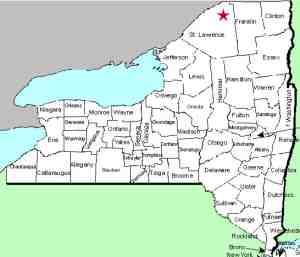 It is likely that Allen Falls is the second most popular waterfall in St. Lawrence County, behind the town of Clare's Lampsons Falls. Immediately across the road from where you park, you will find the path heading downstream. The falls are less than 0.2 mile in.
When you reach the falls, you will be by the crest of it. Continue a bit further and you will find a spot where you can descend to the river level below. The bank is steep and it will be a scramble. There are several areas where you can get a good view of the falls. There is an island in the river here. If you proceed down the riverbank to the point where you really can't go any further without getting wet, you will be able to see a smaller waterfall where it comes out on the opposite side of the island.
This main part of this waterfall is a fairly steep plunge that is close to three times as wide as the fall. The river begins its descent at least a couple of hundred feet upstream. There is a stretch of rapids and then a series of small drops before making this final plunge.
Typically, as with most waterfalls in northern New York, there will still be snow present until after the middle of April.
The St. Regis River flows into the St. Lawrence River almost on the US/Canada border a few miles northeast of Massena, New York.
Last update: April 26, 2017