Directions
To our knowledge, this waterfall is not publicly accessible.
| | |
| --- | --- |
| County: | Essex |
| Town: | North Hudson |
| USGS Map: | Paradox Lake |
| Waterway: | Schroon River |
| Latitude: | N 43° 56' 12" |
| Longitude: | W 73° 44' 28" |
| Drop: | NA |
| Type: | NA |
| Region: | US 9 just south of North Hudson |
| Parking: | NA |
| Trail type: | NA |
| Length of hike: | NA |
| Difficulty: | NA |
| Accessibility: | Private |
| Name: | Official |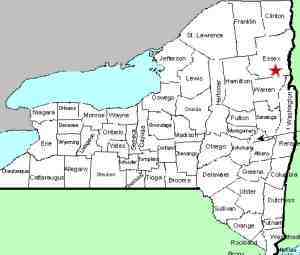 According to USGS topographical maps, this waterfall is located on the west side of US 9, about 3 miles north of Schroon Falls and 1-1/4 mile south of the hamlet of North River, in the area of the Schroon River Cemetery.
The maps do not indicate a trail and we saw no obvious trailhead through that area and there was no signage for it. It would appear that this location is only accessible through private land or by the river. According to Tony Goodwin, Executive Director of the Adirondack Trail Improvement Society, this stretch is "barely a rapids and certainly not a waterfall. Canoeable by the unskilled at low water, it is just a quickening of the current at high water." We received an e-mail from another individual who has canoed this section of the Schroon River and they agreed with that assessment. Interestingly, Linsey Falls is listed on the USGS Geographic Names Information System (GNIS), which means it is an officially named waterfall!
If anyone has any pictures or this waterfall, we would be very interested in hearing from you.
The Schroon River flows through Schroon Lake and then continues its journey to the Hudson River just outside of the village of Warrensburg. The Hudson flows into the Atlantic Ocean in New York City.
Latest update: March 20, 2014