Directions
It appears that this area is only accessible by permission of the landowners or by canoe/kayak on the river.
| | |
| --- | --- |
| County: | Clinton |
| Town: | Plattsburgh/Schuyler Falls |
| USGS Map: | Morrisonville |
| Waterway: | Saranac River |
| Latitude: | N 44° 42' 13" |
| Longitude: | W 73° 36' 06" |
| Drop: | NA |
| Type: | Slide/ribbon cascade |
| Region: | West of Plattsburgh |
| Parking: | NA |
| Trail type: | NA |
| Length of hike: | NA |
| Difficulty: | NA |
| Accessibility: | Private |
| Name: | Official |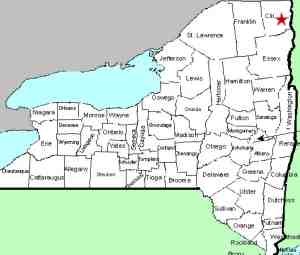 The Kent Falls Road runs roughly between the hamlets of Cadyville and Morrisonville. The bridge where the road crosses the Saranac River has been taken out of service. Although still physically there, vehicular traffic is not allowed on it. Essentially, this road is now two, dead-end roads. These roads can be accessed from the hamlet of Cadyville off Goddeau Street on the west and just off the West Main Street/Sand Road intersection in Morrisonville from the east.
At the bridge on the Cadyville side of the road, there is a small parking area. From there on the downstream side, you can see the top of a dam. This is the Kent Falls dam. Below this dam, there is a long slide type waterfall with a ribbon cascade type plunge at the bottom of it.
Kent Falls is an officially name waterfall, listed on the USGS GNIS. As such, the latitude and longitude of its location are established. Those coordinates listed at the left are the same as those listed on the federal data base and they fall mid-way through this slide.
We have posted a satellite image of this area from Bing Maps.
If anyone has any additional information on this location, please contact us.
The Saranac River empties into Lake Champlain just downstream in the city of Plattsburgh.
Last update: May 9, 2016