Directions
Christine Falls is located on a stretch of NYS Routes 30 and 8 that run together from Speculator to just north of Wells. 3.0 miles east of where these highways come together in Speculator you will come to the old Route 30 on your left. Just past this corner, the road will take a bend to the left and about 0.3 miles there is a break in the wire guard rails on your left. This is the entrance to the "parking area" for Christine Falls. If you are traveling from the south, this point is a little over 6 miles from where 30 and 8 split just north of Wells.
| | |
| --- | --- |
| County: | Hamilton |
| Town: | Wells |
| USGS Map: | Page Mountain |
| Waterway: | Sacandaga River |
| Latitude: | N 43° 30' 44" |
| Longitude: | W 74° 18' 37" |
| Drop: | 40' |
| Type: | Curtain cascade(s), slide, flume |
| Region: | Between Wells and Sacandaga |
| Parking: | Unpaved lot |
| Trail type: | Dirt, rock |
| Length of hike: | 0.1 mile |
| Difficulty: | Easy |
| Accessibility: | Public |
| Name: | Official |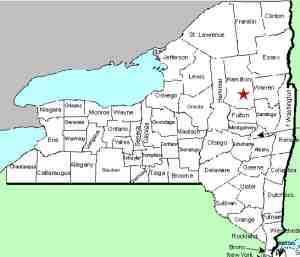 You will drive down a short embankment over a stone road to get to the parking area. From here, you will find a trail at the end of the area that leads to the base of the falls.
These falls are located just downstream from a hydro facility. They are a multi-step falls, in two distinct sections. The top section contains a number of steps and slides. A hundred feet or so downstream is the lower section. Between the two is a series of slide type plunges, rapids and flume. To return to your vehicle, you can actually climb the embankment and you will end up at the other end of the parking area from where you entered.
The Sacandaga River flows through a number of lakes as it makes its way to the Hudson River whose final destination is the Atlantic Ocean.
Last update: August 26, 2017