Directions
The Raquette River Road intersects NY 56 just east of the bridge across the Raquette River in South Colton. Near the end of the section of this road that parallels the South Colton Reservoir, there is a powerplant. Just before this facility there is a sign indicating river access.
| | |
| --- | --- |
| County: | St. Lawrence |
| Town: | Colton |
| USGS Map: | Rainbow Falls |
| Waterway: | Raquette River |
| Latitude: | N 44° 31' 40" |
| Longitude: | W 74° 51' 08" |
| Type: | Rapids |
| Region: | Northeast of South Colton |
| Parking: | Unpaved lot |
| Trail type: | Dirt |
| Length of hike: | 5 minutes |
| Difficulty: | Easy |
| Accessibility: | Public |
| Name: | Official |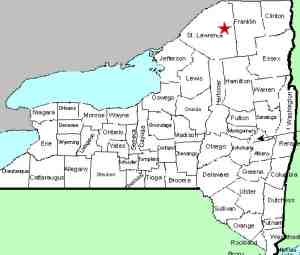 This is stretch of river is an officially named rapids and is indicated on topographical maps. The access to the river from the signs is quite easy, but it comes out downstream of the rapids and you are unable to see them. On the day of our visit, we did not bring our waders, so we were unable to ford the stream that joins the Raquette there. Perhaps on another trip, we will do that. Otherwise, this stretch is only accessible by water because the property on the south side of the river is private and posted by the power company and the other side of the river private and relatively remote.
The dam at this site holds back a region known as Five Falls Reservoir. The Five Falls dam was built by the Niagara Mohawk Power Corporation and was completed in 1955. At one time, there was a waterfall in this area called Five Falls. Although it is still an officially named waterfall on the USGS GNIS data base, it is a historical waterfall. It was flooded over when this dam was constructed.
The Raquette River empties into the St. Lawrence River in Massena, New York
Last update: August 13, 2016