Directions
The Raquette River Road more or less parallels the Raquette River. Starting just east of the hamlet of South Colton, it runs for several miles. This site would have been about 3 miles from the beginning of this road on the South Colton end.
| | |
| --- | --- |
| County: | St. Lawrence |
| Town: | Colton |
| USGS Map: | Rainbow Falls |
| Waterway: | Raquette River |
| Latitude: | N 44° 31' 41" |
| Longitude: | W 74° 50' 08" |
| Drop: | NA |
| Type: | Historical |
| Region: | Off NY 56, just east of South Colton |
| Parking: | NA |
| Trail type: | NA |
| Length of hike: | NA |
| Difficulty: | NA |
| Accessibility: | NA |
| Name: | Official |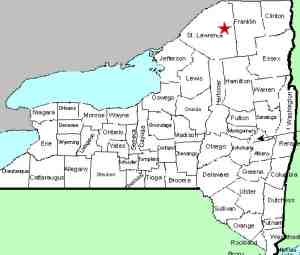 There are dozens of power dams that now dot the Raquette River in this section. Many of the dams are at locations of waterfalls and some of them have replaced the waterfall that used to be there. This is a slightly different situation.
The fact that there is a reservoir named Five Falls Reservoir might imply that there were five waterfalls that were in the area of this reservoir. We worked on that theory for some time in an attempt to research this to find out what those five waterfalls were. What we found was that, in fact, there was only one and it was named Five Falls. In this case, rather than the dam being built where the waterfall was, this one was built over 2100 feet downstream and the resulting flooding completely covered the waterfall.
The USGS GNIS data base ... the United States Geological Survey Geographic Names Information System lists Five Falls as a historical waterfall, so this is very official. The location of the former waterfall is near the upper end of the Five Falls Reservoir, in the channel between two good-sized islands that now exist there.
The Raquette River empties into the St. Lawrence River in Massena, New York.
Last update: June 13, 2016