Directions
From exit 46 on I-81, proceed west to the community of Paddy Hill. Take a right toward Brownville. You will immediately go down a fairly steep hill. Pull into the parking area on the right before crossing the bridge.
| | |
| --- | --- |
| County: | Jefferson |
| Town: | Brownville |
| USGS Map: | Brownville |
| Waterway: | Philomel Creek |
| Latitude: | N 44° 00' 03" |
| Longitude: | W 75° 58' 52" |
| Drop: | 40' |
| Type: | Ribbon cascade |
| Region: | Just off NY 12E and 12F in the village of Brownville |
| Parking: | Unpaved lot |
| Trail type: | NA |
| Length of hike: | NA |
| Difficulty: | Easy |
| Accessibility: | Public |
| Name: | Common |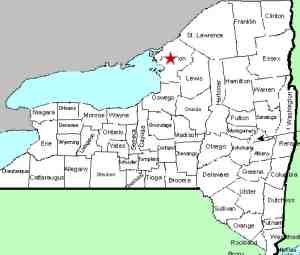 We originally had this labeled as the Brownville Falls. In keeping with our policy of labeling unnamed waterfalls, soon after the original posting, we changed this to Philomel Creek Falls. In 2017, we found two different websites that refer to this as Bovine Falls. This label is not commonly known in the community, but it should be noted that both of these websites are whitewater related, leading us to the conclusion that this is a moniker attached by kayakers. This is a fairly common practice. When we find a whitewater reference such as this, we usually will note it but continue using the common waterfall name. In this case, there is no other common name so we have adopted that for our use.
From the parking area you can see this waterfall on the opposite side of the river. It is at the extreme outlet of a very small creek that empties into the Black River. A seasonal waterfall, it is possible to drive by this location many times and never see the falls. When it is flowing, however, it is a very pretty cascade. You must look for this in the spring or after a fairly heavy rain. Otherwise it will be dry and non-existent.
From the parking area, you are looking across a region known as the Black River Canyon. At this point, the Black River is carrying water from hundreds of miles of Northern New York rivers and streams. You can see the layers of rock that are the canyon walls through this stretch.
Just downstream from the Glen Park Falls, this stretch is very popular with the whitewater community. On any Saturday or Sunday during the summer, you might see rafts and kayaks paddling through this area.
Please note that locally this creek has been known as Philemore, or possible Philmore, Creek. We have had conversations with several natives of this area who have spent 50 or 60 years here, and have been told that they have never heard of Philomel Creek! It is, however, named on topographical maps and on-line references to it are common.
In 2014, a video showed up on youtube showing two kayakers going over this waterfall!
The Philomel Creek enters the Black River at this point. The Black enters Lake Ontario just downstream from here.
Last update: February 23, 2017