Directions
From NY 12, roughly half way between the communities of Glenfield and Lyons Falls, you will find the Burdicks Crossing Road. Follow this east. It will end at a "T" where you should turn left. The second right will be the Brantingham Road. Follow this until you come to the Partridgeville Road on the left. About 1.6 miles up this road, you will actually take a left to stay on the Partridgeville Road. One-half mile from this corner, the pavement will end. In another 0.4 miles, you will find a small parking area on your left.
| | |
| --- | --- |
| County: | Lewis |
| Town: | Greig |
| USGS Map: | Brantingham |
| Waterway: | Otter Creek |
| Latitude: | N 43° 43' 17" |
| Longitude: | W 75° 15' 56" |
| Drop: | ~10' |
| Type: | Rectangular Block |
| Region: | Southeast of Lowville |
| Parking: | Unpaved lot |
| Trail type: | Dirt |
| Length of hike: | 350' |
| Difficulty: | Easy |
| Accessibility: | Public |
| Name: | Official |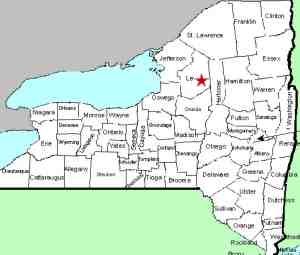 Locating Shingle Mill Falls the first time we were there turned out to be quite an adventure. The information we had came from a brochure found on-line promoting Lewis County waterfalls and published by a Lewis County organization. We were told that the trailhead was "approximately four miles" down a road and then you had to hike about a mile to the falls. In fact, the trailhead was only about 2.5 miles in and we walked a little over 100 yards!

Follow our directions side-bar to know what you really need to do. Once at the parking area, you have a choice to make. The falls are less than 1/2 mile, so it is not a bad hike. However, the "road" is labeled as a motor vehicle trail. Since it was raining when we were there, and we thought we had a mile to walk (in retrospect, maybe they meant one mile round-trip but they didn't say that), we opted to drive. It's not a great road, but it is far from the worst we've found on our waterfall adventures! A little over 0.1 mile in, you will come to a fork with a sign indicating that the right is the Shingle Mills Spur. In another 0.2 mile, there is a parking area and the end of the line as far as motor vehicles are concerned. The falls are about 350 feet down the trail.

There are three drops comprising this waterfall. When you first reach the river from the trail, you are at the upper section, which is only about five feet high. This is featured in our first video.
Hike downstream and you will soon reach the ten feet tall main or middle drop. Our second video shows this. Not far at all inside the Adirondack State Forest, Shingle Mill Falls is quite a bit wider than it is tall. It is still a very nice set of falls in a fairly remote setting, but still easy to get to.
Still further downstream is the five foot tall lower section. You will see this in our third video.
The name of this waterfall is now official, having been added to the GNIS data base on November 9, 2017.
The Otter Creek flows into the Black River just a few miles downstream from this location. The Black empties into Lake Ontario in the Jefferson County community of Dexter.
Note: We mentioned above that we found info on this waterfall in a brochure. The entry was entitled "Shingle Mills Falls" but in the text description it was called "Shingle Mill Falls". Several other on-line sources reference this waterfall as Shingle Mill Falls. Also, please note that there is another Shingle Mill Falls in Lewis County, that one in Croghan.
Last update: November 14, 2017