Directions
From the village of La Fargeville, take CR 13 north. You will come to a stop sign at CR 3. Take a right and proceed under the first I-81 overpass (southbound lane). Park on the roadside just past the guard rails.
| | |
| --- | --- |
| County: | Jefferson |
| Town: | Alexandria |
| USGS Map: | La Fargeville |
| Waterway: | Mullet Creek feeder stream |
| Latitude: | N 44° 14' 41" |
| Longitude: | W 75° 56' 52" |
| Drop: | 20' |
| Width: | Square Block |
| Region: | Northern Jefferson County |
| Parking: | Roadside |
| Trail type: | Dirt |
| Length of hike: | 0.15 mile |
| Difficulty: | Easy |
| Accessibility: | Public |
| Name: | Common |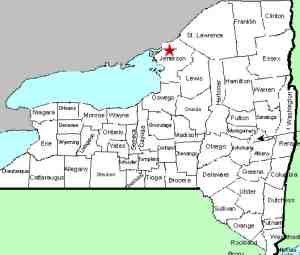 All things considered, we won't go as far as to say that this is a one-of-a-kind waterfall, but it may be. It is certainly somewhat unique. We know of no other waterfall that is located between the lanes of an Interstate highway, at least in northern New York! Specifically, this area is north of Watertown between the north and southbound lanes of I-81. The waterfall itself can not usually be seen from the highway. Before spring blooming, you may get a brief view of it from the south-bound lane if you know where to look.
The land surrounding this area has been a family farm for at least three generations. The owner of this specific parcel sold the land to the state back in the early '60s when the Interstate was created. Tax maps show that Jefferson County owns this land so it is public property. Needless to say, safety, not to mention legality, would be a concern if one were to try and find this waterfall from the Interstate. There is a safer approach from Jefferson County Route 3 that goes under I-81 just north of this location. Simply climb over the guard rails on the southbound lane side and and walk south, staying near the bottom of the bank toward the highway.
If you look at a topo map of this area, the waterway containing this waterfall is technically unnamed. The main channel of the Mullet Creek has a number of fingers that feed it. In actuality, the branch that this waterfall is on is a feeder of a feeder. Local sources tell us, however, that even though it is common knowledge that this is a feeder, the entire system is known locally as Mullet Creek. A large number of swamps and wetlands in this region provide the source of this creek and assures that this waterfall is flowing during most of the year. The only times it doesn't flow is when it is frozen.
We estimate this waterfall at 20'. It is a pretty and interesting site and well worth the trip. We do urge caution when here. The traffic isn't really an issue because you don't need to get near the highway. You should, however, remember the old adage ... "leaves of three, let it be." There was foliage that you have to go through to reach the creek bed that looks suspiciously like Poison Ivy. It would be advisable to wear long pants. Again, if you go in the spring, you may beat this.
The Mullet Creek flows into the St. Lawrence River about 3.5 miles from this location. It enters the St. Lawrence just upstream of the Thousand Islands Bridge. This is the US/Canadian International Bridge at Collins Landing, between Alexandria Bay and Clayton. This is a major tourist area and a gem of the North County.
Last update: April 15, 2017