Directions
To get here, travel NY 12 to Lyons Falls. Find the bridge crossing the Black River and continue. Lowdale Road is just after the paper mill on your left. Park in the area provided.
| | |
| --- | --- |
| County: | Lewis |
| Town: | Lyonsdale |
| USGS Map: | Port Leyden |
| Waterway: | Moose River |
| Latitude: | N 43° 37' 07" |
| Longitude: | W 75° 18' 17" |
| Drop: | 20' |
| Type: | Ribbon cascade |
| Region: | East of Lyons Falls |
| Parking: | Unpaved lot |
| Trail type: | Asphalt |
| Length of hike: | 1 minute |
| Difficulty: | Easy |
| Accessibility: | Public |
| Name: | Common |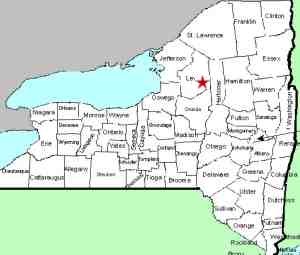 One of several sections of waterfalls or rapids on the lower part of the Moose River, this site is directly under the bridge on the Lowdale Road at Lyonsdale, in the left channel of the river. This stretch of the river is very popular with the kayak community.
There is a hydro facility at this point and these falls are often not flowing unless there is high water. On the Lowdale Road, there are two, one-lane steel bridges. The first takes you from the south side of the Moose to an island and the second spans the right channel to the north side. You can see this drop from these bridges, but you are looking over the crest of the falls. Downstream views are available from the back parking area of the hydro facility, but that area is posted. On our first few trips here, no one was around to approach for permission, but timing was with us on our last visit. The parking area was open and an employee we spoke with allowed us access.
It is our understanding that the entire span of the river here was originally known as Lyonsdale Falls. The whitewater community has dubbed the right channel "T-Bone" so we have posted pictures of that side separately.
The Moose River flows into the Black River just a few miles downstream from this location in Lyons Falls. The Black empties into Lake Ontario in the Jefferson County community of Dexter.
Last update: April 25, 2017