Directions
Head east on NY 5 in the city of Schenectady. Take a left on NY 7 and then another left on NY 9/Loudon Road. At Boght Road, turn right. This will become Manor Avenue. This will end at the river where you should turn right on North Mohawk Street. A left on School Street will take you to a small park. Park street-side.
| | |
| --- | --- |
| County: | Saratoga/Albany |
| Town: | Colonie/Waterford |
| USGS Map: | Troy North |
| Waterway: | Mohawk River |
| Latitude: | N 43° 47' 15" |
| Longitude: | W 73° 42' 33" |
| Drop: | 75' |
| Type: | Curtain cascade |
| Region: | Downtown Cohoes |
| Parking: | Streetside or paved lot |
| Trail type: | Dirt |
| Length of hike: | Varies |
| Difficulty: | Easy |
| Accessibility: | Public |
| Name: | Official |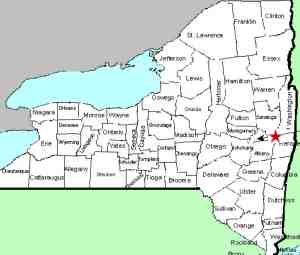 There are two places where the public can easily view the falls. There's a small park at the corner of School Street and Cataract Street that was the original viewing area for the falls. This point gives a wider view of the entire falls, but there's a set of power lines between the park and the falls. Even so, it's a great view. Visitors can park along School Street and Cataract Street, although residents also park in the street too.

The second public access point for viewing the falls is at Falls View Park. This recently built park offers a closer view of the falls. Unfortunately some young trees growing on the hillside between the park and the falls are just starting to obscure the view of part of the falls. one can still see most of the falls, and this point is closer than School Street park.

There is an access path from Falls View Park to the base of the falls via a long stairway. The hours when the access path is open are somewhat random. Visitors may want to call the city of Cohoes in advance if they want to gain access to the base of the falls. There is a parking lot across the street from Falls View Park that will accommodate about ten cars. Typically about six or seven spaces are open at any time. When open, the lower level provides an ideal spot to photograph the falls, as the view is unobstructed by trees or fences.

There is a power plant at this location which redirects a fair amount of flow away from the falls. With a 75' drop and spanning 1000' across the river, water flows across the falls just about all the time, but of course spring offers the best viewing.

The falls are easily accessible from the Mohawk-Hudson Bikeway. Both viewing areas are about a half-mile from the bikeway itself. The signs at the entrance to Falls View Park say 'No Bicycles' but typically, if cyclists walk their bikes through the park the attendants don't seem to take exception.

The Mohawk River flows into the Hudson River which empties into the Atlantic Ocean in New York City.
Last update: August 26, 2017