Directions
Just north of Malone, CR 23 exits right off US 11. Signs will indicate that the road goes to Burke. After crossing the bridge in the hamlet, take the first right on Depot Street. Look for St. George Catholic Church on the right and park streetside near it.
| | |
| --- | --- |
| County: | Franklin |
| Town: | Burke |
| USGS Map: | Burke |
| Waterway: | Little Trout River |
| Latitude: | N 44° 53' 55" |
| Longitude: | W 74° 10' 06" |
| Drop: | 16' |
| Type: | Curtain cascade |
| Region: | Off US 11 north of Malone |
| Parking: | Unpaved parking lot |
| Trail type: | Dirt |
| Length of hike: | 0.2 mile each way |
| Difficulty: | Easy |
| Accessibility: | Public |
| Name: | Common |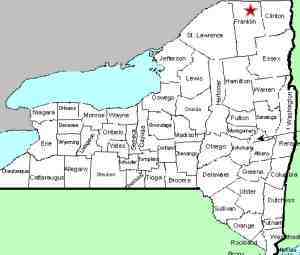 For years, parking was available in the church parking lot. On our last visit, a sign was promenently displayed noting that for swimming access, the parking lot was not available. Swimmers were to park on the street. The sign further warned that "Violators Will Be Towed". We weren't there to swim but suspected this warning was for any river access so we parked in front of the church.
A trailhead at the back of the church parking lot will be obvious. There is a gate at that point and a sign warning you about the gate! The trail is well-worn and an easy hike. Our information is that this is a common, popular swimming area for the locals and access is allowed there.
As you reach the river, there is a series of slides and small drops that take up close to two to three hundred feet. The river bed is quite wide and made up of smooth rocks. The last four pictures in our array are of this slide area.
From here, take a left and follow the river bed/stone bottom upstream. There is a trail along the shore but you will have to cross the riverbed at some point because the waterfall is on the other side of the "island" on your right. We call it an island because, unlike the channel, it does support foliage. However, the amount of water in the channel would not make a great argument that this is actually separated from the mainland. Every time we have been there, it has been dry enough on this side that you simply hike up the riverbed.
Continue walking up "river right" until you reach the most upstream part of the island. At that point you will see the waterfall and you can easily access the left channel and get downstream views of the falls.
We found a map that named this the Small Trout River, but most maps call it the Little Trout River. It flows into the Trout River and few miles downstream from here. That river continues through the hamlet of Trout River, which is right on the US/Canada border. From there it continues north through the Province of Quebec and empties into the St. Lawrence River.
Updated: August 17, 2017