Directions
Located on NYS Route 73, this site is just south of the hamlet of Saint Huberts, which is on the stretch between the village of Keene Valley and the northern intersection of routes 73 and 9. Look for the signs for the Giant Mountain Wilderness Area. The parking area for AMR is directly across the road.
| | |
| --- | --- |
| County: | Essex |
| Town: | Keene |
| USGS Map: | Keene Valley |
| Waterway: | Gill Brook |
| Latitude: | N 44o 7' 37" |
| Longitude: | W 73o 48' 32" |
| Drop: | 20' |
| Type: | Step |
| Region: | off NY 73 near the hamlet of St. Huberts |
| Parking: | Unpaved lot |
| Trail type: | Dirt/rock |
| Length of hike: | About 2.9 miles, one way |
| Difficulty: | Moderate |
| Accessibility: | Access by easement |
| Name: | official |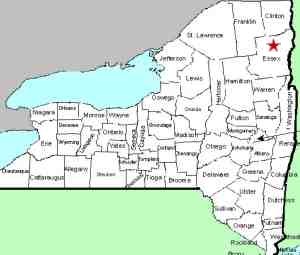 Please refer to our page for the general information on The Adirondack Mountain Reserve. This waterfall is located within that facility. This area contains four officially named waterfalls, two others that are commonly named and many other unnamed cascades.
From the guard shack at the AMR, take the Lake Road until reaching the Gill Brook Trail, approximately 1-3/4 miles. From there, it is about 0.4 hike up the trail.
on a trip to the AMR in April 2012, we focused on the waterfalls off the West River Trail. As we were coming out on the Lake Road, we stumbled upon a number of waterfalls within view of the road. It has been confirmed by Tony Goodwin, Executive Director of the Adirondack Trail Improvement Society, that this
The Gill Brook empties into the East Branch of the Ausable River not far downstream from here. The east branch joins forces with the west branch at Au Sable Forks to form the Ausable River, which empties into Lake Champlain in the town of Peru.
Last update: September 4, 2015