Directions
From the intersection of NY 28 and 30 in Blue Mountain Lake, proceed west on route 28. Since this is a significant distance, and vehicle guages vary, you might want to look for landmarks rather than relying only on the odometer. At about 9.5 miles, on your left, you will see a yellow sign indicating "Stop. Barrier Ahead". There is also a yellow gate. This is just after a dip in the road where you cross a small creek. Also note that just before this, there is a road on the right that has the same type of yellow sign and gate! This is the entrance to a park and you don't want to be there, although the gentleman working there in September 2011 was very cordial!
| | |
| --- | --- |
| County: | Hamilton |
| Town: | Arietta |
| USGS Map: | Raquette Lake |
| Waterway: | Death Brook |
| Latitude: | N 43° 48' 43" |
| Longitude: | W 74° 35' 40" |
| Drop: | ~70' |
| Type: | Ribbon cascade |
| Region: | On NY 28 between Old Forge and Blue Mountain Lake |
| Parking: | Roadside |
| Trail type: | Dirt |
| Length of hike: | 0.2 mile/5 minutes |
| Difficulty: | Easy |
| Accessibility: | Public |
| Name: | Common |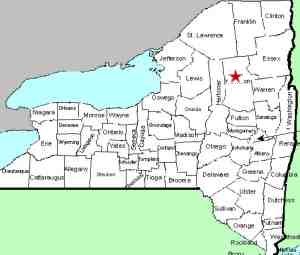 We have also seen this location noted as Death Falls and the website AdirondackExperience.com states that it is also known as Secret Falls. These are unofficial monikers but whatever you want to call it, it is a very pretty location. As you are at the base of these falls, you have the impression that you are in a fairly remote location, and yet, it is less than a 0.2 mile walk and easy to get to.
Park by the gate and walk up the dirt roadway. In about 400' you will come to an open field. Go straight across it and the roadway continues, narrowing as it goes. The path will bear left and reach the creek where you should turn right and go upstream where you will soon find the falls.
The drop is not a free-fall plunge, but close to it. We were there in September and there wasn't a tremendous amount of water flowing, but it was nonetheless interesting because it pours down the side of a nearly vertical rock wall. We suspect that during spring run-off, the cascade would be quite impressive. We also suspect that in the wetter times of the year, your walk in would be a little more difficult. There is a swampy area along the path that was quite damp even when we were there. In the spring it would probably be very wet. We were even able to walk up the creek-bed, from stone to stone, without getting wet. Since our original posting, we have received contributor pics with more water flowing.
Death Brook flows into the Raquette River. The Raquestte flows through Long Lake and Raquette Pond (which could be considered as part of Tupper Lake) as it makes its way into the St. Lawrence River in Massena, New York.
Last update: October 4, 2017