Directions
CR 179 runs between the village of Chaumont and the hamlet of Depauville, paralleling the Chaumont River. 1.3 miles from the Depauville end, the highway crosses a small creek. This waterfall is downstream of this bridge.
| | |
| --- | --- |
| County: | Jefferson |
| Town: | Clayton |
| USGS Map: | Dexter |
| Waterway: | Buttermilk Creek |
| Latitude: | N 44o 07' 31" |
| Longitude: | W 76o 04' 58" |
| Drop: | ~ 35' |
| Type: | Ribbon cascade |
| Region: | Between Chaumont and Depauville |
| Parking: | Roadside |
| Trail type: | Roadside |
| Length of hike: | Roadside |
| Difficulty: | Easy |
| Accessibility: | Private |
| Name: | Unnamed |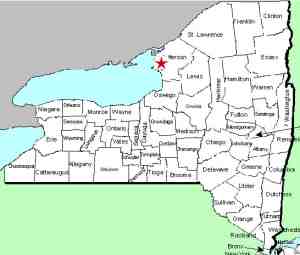 This is a small unnamed waterfall visible from the roadside. Because you are looking over the crest, you really can't appreciate this cascade. This is a very nice waterfall.
This is private property. On our first trip here, there is a sign on a tree next to the falls. You can read the top of the words "No Hunting" but the rest of the sign has been torn off. We erred on the side of caution and assumed that this is a posted sign so did not attempt to go further.
Even if this property were accessible, the banks here are very steep and congested. Although not far, it would be a serious bushwhack to get to the bottom of the falls. A water route here is likewise not advisable. It would be physically possible to get to the river bank at the top and go down the steps making up the top portion of the falls. You will reach a point, however, where, as the old story goes, the last step is a douzy!
We estimate this waterfall to be 35 feet. The top 15 feet or so are a serious of steps. The bottom 20 feet is a free-fall. Our pictures, which were taken with a drone do not do this beauty justice. This was our first outting with the drone. As a rookie pilot, I had it in "Beginner Mode". This limits the distance it will be allowed to go from the transmitter. It was as far away as it would let it so I did not get the entire drop. As time, and experience, allows, I will go back to get photos of the entire drop.
By comparing this location to topo maps, we found that it is just upstream from where the creek enters the Chaumont River which is navigable in small crafts. This location could potentially be reached in that manner.
Buttermilk Creek flows into the Chaumont River just downstream of here. That river flows into Chaumont Bay, a large bay on Lake Ontario.
Last update: April 15, 2017