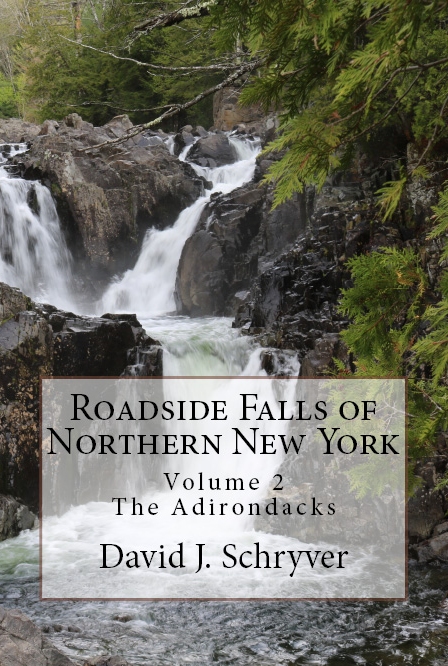 Often when people think about Adirondack waterfalls, they think of remote locations requiring long hikes.
In fact, a number of falls in this area aren't that far from a highway.
This book will guide you through 50 waterfall locations in five counties in the extreme north-eastern corner of Northern New York.
All falls described are within 1/2 mile of a highway and many offer roadside views.
This is not intended to be a collection of magnificently tall descents or of the most popular falls in the area.
It is simply a list of pretty locations that are easy to get to.
Roadside Falls of Northern New York Volume 2, The Adirondacks
has been arranged so that the reader can "tour" these falls somewhat sequentially.
We start in Franklin and proceed through Clinton, Essex, Warren and Hamilton Counties.
These counties make up a significant portion of the Adirondack Park.
You will see that much of the beauty of the Adirondacks is quite easy to get to.
Each waterfall is presented on a two-page spread with a full-page color photograph and descriptive text that includes driving directions, information and history of the falls and the area and access information. Sidebars feature handy at-a-glance information, such as the location, walk time, trail type, GPS coordinates and the size and type of waterfall.
This is the second of three volumes which feature "Roadside Falls" in the north country.
---
Buy a copy of this book through us ...
This book is available at a number of on-line retailers or an autographed copy can be purchased through this website. A purchase here supports the author and local business. There are two options:
*******************************************************************************************
Option 1: Buy through this website ...
The cost of the book here is $20.00 each, plus $7.50 s/h for one or two books, plus 8% sales tax to New York State residents. There is no sales tax to domestic addresses outside of New York State. We have made every effort to keep costs down and have found that the best shipping method is USPS flat rate shipping. This is only slightly more than book rate and you should have your purchase within three days. Book rate can take two weeks or more.

IMPORTANT: Anyone wishing to buy more than one copy may e-mail us or call us at 315-486-1408 with details. We have a number of discounted bundle options.

Please visit our bundle page

.

Non-US residents may e-mail us with specifics about your location and we will research the cost of shipping and handling.
New York State residents please complete this section

---

---

Non-NYS residents please use this section

---

---
If no description is given, a general autograph will be given that is not addressed to a specific recipient. Please note that the return address on the package will indicate "Fourth Coast Creations".
******************************************************************************************
Option 2: Buy direct ...
We live in the Watertown area and make frequent trips into St. Lawrence County, especially Gouverneur, Edwards and the Canton/Potsdam area. Send an e-mail or give us a call at 315-486-1408 to discuss the possibilities of meeting to pick up the book. Credit card payments will not be available for this type of purchase. Cash or checks only please. The cost is $20.00, per book, plus 8% sales tax of $1.60, for a total of $21.60. If you are interested in multiple books, mention that when you call. We have a number of bundled options.
---
About the Author
Bibliographic information
| | |
| --- | --- |
| Title: | Roadside Falls of Northern New York Volume 2, The Adirondacks |
| Author: | David J. Schryver |
| Photography by: | David J. Schryver |
| Publisher: | David J. Schryver, 2017 |
| ISBN-13: | 978-1974285136 |
| ISBN-10 | 1974285138 |
| Length: | 122 pages |