Directions
Locate Natural Bridge on NY 3, between Carthage and Harrisville. Going east on Route 3, the first right will be named the old State Road. The first right off this is the Henry Road. This will end at a "T" at the McCoy Road. Take a right and just past the first home on the right is the trail head.
| | |
| --- | --- |
| County: | Lewis |
| Town: | Diana |
| USGS Map: | Natural Bridge |
| Waterway: | Blanchard Creek |
| Latitude: | N 44o 04' 00" |
| Longitude: | W 75o 26' 09" |
| Drop: | ~15' |
| Type: | Ribbon cascade/slide |
| Region: | Near Natural Bridge |
| Parking: | Roadside |
| Trail type: | Dirt, rock |
| Length of hike: | 0.1 mile |
| Difficulty: | Easy |
| Accessibility: | Private, posted |
| Name: | Unnamed |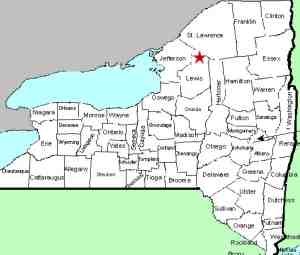 There are a number of items we need to clarify about this location. On our only trip there, we were with a DEC official who noted that the posting was relatively new. It wasn't posted when he was there a couple of years before. We called the number on the sign and explained what we were doing. The lady on the other end of the line very graciously granted us permission to access it. The bad news is that after getting back from this trip, we discovered that our pictures left a bit to be desired. We apologize for that.
Next, at that time, the home here had a for sale sign so it is not certain if the next owner will also post it, or allow access as the previous owner did.
Finally, we originally had this listed as Blanchard Creek Falls. We have subsequently found out that there are two Blanchard Creeks in Lewis County. This one originates just west of the West Branch of the Oswegatchie River not far at all from where the other one terminates. They are, however, two separate waterways. To clarify, these falls are technically unnamed. Because of the discovery of the second Blanchard Creek, we are now calling these Knickerdocker Falls. That is not a mis-spelling! At one point, this property was owned by a Dr. Knickerdocker and the locals called them this.
The creek is not far off the road. Just upstream from here is the Blanchard Pond. There appears to be a man-made dam at the outlet which forms part of this waterfall. It has been there for decades. One could assume that there might have been a mill there at one point in time but we don't know that for certain.
The Blanchard Creek joins the Indian River a short distance downstream of this location, just below the hamlet of Natural Bridge. The Indian continues its flow downstream through Black Lake. Then it joins the Oswegatchie River which flows to the St. Lawrence River in Ogdensburg.
Last update: June 28, 2017