Directions
From NY 12, drive into the village of Lyons Falls. It isn't a very large village and there is only one bridge that crosses the Black River. Follow the boat launch signs. There are actually two launches, one above and the other below the falls. Follow the signs to the lower launch and you will get a good view of these falls. There is also another spot just upstream where you can get a good view at the top of the falls.
| | |
| --- | --- |
| County: | Lewis |
| Town: | West Turin/Lyonsdale |
| USGS Map: | Port Leyden |
| Waterway: | Black River |
| Latitude: | N 43o 37' 06" |
| Longitude: | W 75o 21' 29" |
| Drop: | 63' |
| Type: | Rectangular Block |
| Region: | In the village of Lyons Falls |
| Parking: | Unpaved lot |
| Trail type: | Dirt |
| Length of hike: | 1 minute |
| Difficulty: | Easy |
| Accessibility: | Public |
| Name: | Official |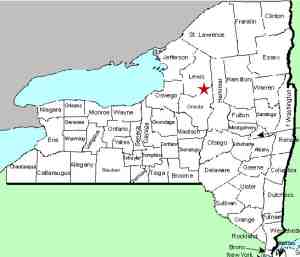 Lyons Falls is another one of those waterfalls that has been a power dam for many years. It is somewhat of a unique situation, in that there is still an impressive set of falls below the dam. Located on the Black River in the village of Lyons Falls, it is just below where the Moose River joins the Black.
Over the years, this waterfall has powered various mills. There is still a hydro-electric plant operating here but the other facilities have fallen into a serious state of disrepair. A short time ago, we learned that there was a movement underway to remove the decaying structures and on our last trip there, it appeared that this process has started.
The hamlet and town of Lyonsdale and the village of Lyons Falls were all named after Caleb Lyon, an early settler who served on the New York State Assembly, first elected in 1824.
We were notified on June 14, 2017 that the Board on Geographic Names has accepted our application and Lyons Falls is now listed on the USGS GNIS.
The Black River empties into Lake Ontario at the Black River Bay, just southwest of the village of Dexter.
Updated: June 14, 2017