Directions
Take the Belfort Road from the village of Croghan to Belfort. Turn right on the Long Pond Road and then the first right on the Taylorville Road. About 4/10 of a mile up this road, there is a "Y". Bear left on this dirt road and continue along the penstock. There are several places to park but your best bet is to locate the last area on your right before reaching the power dam.
| | |
| --- | --- |
| County: | Lewis |
| Town: | Croghan |
| USGS Map: | Belfort |
| Waterway: | Beaver River |
| Latitude: | N 43o 55' 31" |
| Longitude: | W 75o 18' 45" |
| Drop: | ~20' |
| Type: | Slide |
| Region: | East of Croghan |
| Parking: | Unpaved lot |
| Trail type: | Dirt |
| Length of hike: | 5 minutes |
| Difficulty: | Easy |
| Accessibility: | Public |
| Name: | Unnamed |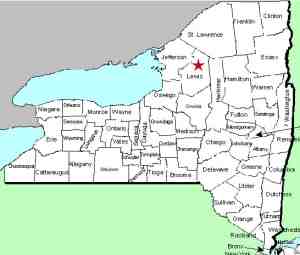 Several hundred yards downstream from Taylorville Falls, there is another waterfall that drops about 15 to 20 feet. This second falls really warrants its own identity. Located on its own, out of the shadow of the upper falls, this waterfall would undoubtedly carry its own name and be a destination for hikers. As it is, this area is a two-for-one special.
Walk under the penstock and bear right toward the river to locate this set of falls, or walk downstream after visiting the upper falls.
On our last visit there in June 2017, we stopped at a little store In Croghan. Since we were going to be away from any type of population base for a few hours, we decided to pick up sandwiches for lunch. As she was making sandwiches, I questioned her about selling our books there. When she found out we were looking for waterfalls, she asked if we had been to "Double Eddies". Since it was not familiar to us, she gave us directions. After following her directions, we are fairly certain that she was directing us to the location of Taylorville and Taylorville Lower Falls.
Below this lower drop, the river makes a slight bend right and then left before turning right again and continuing downstream. In the process, it forms two eddies. As a result, the locals refer to this region as "Double Eddy".
The Beaver River flows into the Black River, which empties into Lake Ontario at the Black River Bay, just southwest of the village of Dexter.
Last update: July 1, 2017