Directions
Located on NYS Route 73, this site is just south of the hamlet of Saint Huberts, which is on the stretch between the village of Keene Valley and the northern intersection of routes 73 and 9. Look for the signs for the Giant Mountain Wilderness Area. The parking area for AMR is directly across the road.
| | |
| --- | --- |
| County: | Essex |
| Town: | Keene |
| USGS Map: | Keene Valley |
| Waterway: | Unnamed tributary of the Ausable River, East Branch |
| Latitude: | N 44o 7' 45" |
| Longitude: | W 73o 48' 56" |
| Drop: | 60' |
| Type: | Ribbon cascade |
| Region: | off NY 73 near the hamlet of St. Huberts |
| Parking: | Unpaved lot |
| Trail type: | Dirt/rock |
| Length of hike: | 40 minutes beyond Wedge Brook Falls |
| Difficulty: | Intense |
| Accessibility: | Access by easement |
| Name: | official |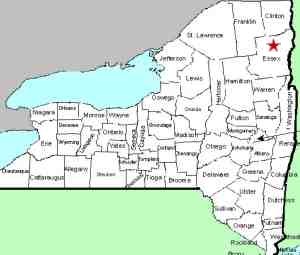 Please refer to our page for the general information on The Adirondack Mountain Reserve. This waterfall is located within that facility.
As you continue upstream, about 0.7 of a mile from Wedge Brook Falls, you will come to a footbridge. Beaver Meadows Falls is actually on a creek feeding the Ausable but since the creek isn't named, we have chosen to include this one on our website menus as being on the the Ausable.
Beaver Meadows Falls, our fourth stop on the West River Trail, is actually a series of steps, but the horizontal reach of the steps is trivial compared to the drop, so we are looking at this as a cascade. You are in a fairly remote area at this location and this is a waterfall that only the die-hard waterfaller/hiker is going to appreciate first-hand.
The waterfall is broken down into three, 20 feet drops, in rapid succession. The top two sections are both free-fall plunges onto small ledges, and then the final drop is head-long, very close to a free-fall.
The East Branch of the Ausable River joins forces with the west branch downstream at Au Sable Forks to form the Ausable River. This waterfall rich river empties into Lake Champlain in the town of Peru.
Last update: July 27, 2015